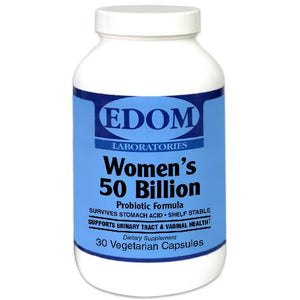 Women's 50 Billion Probiotic Formula Vegetarian Capsules
Regular price $64.60 Sale
Women's Probiotic Vaginal & Urinary Support Formula†
Like the intestinal tract, your vaginal canal is a finely balanced ecosystem that hosts harmful bacteria, yeast and other organisms.
Supports Vaginal & Urinary health†
50 Billion total cells per serving
Improves immune function†
Survives stomach acid
Room temperature safe storage
Synergized with Prebiotic blend
Dairy & Gluten Free
This formula features 5 of the most dominant species of Lactobacilli that nourish and support the vaginal and urinary organs. Probiotics are good bacteria that should always be present in proper concentrations for maintaining vaginal health as well as digestive health.† Your system can be thrown out of balance by a number of factors, including birth control pills, antibiotics, and spermicides. Probiotic treatment to restore the balance of microflora may be helpful for such common female urogenital problems as bacterial vaginosis, yeast infection, and urinary tract infection.†
Supplemental Facts
Serving Size: 1 Vegetarian Capsule
Amount
% DV
Proprietary Lactobacilli blend *
(40 billion cells per cap)
*
L. acidophilus LA-14
L. casei LC-11
L. lactis LL-23
L. plantarum LP-115
L. salivarius LS-33
Proprietary Bifidobacterium blend
(10 billion cell per cap)
*
Bifidobacterium lactis BL-04
Bifidobacterium breve BB-03
Prebiotic blend(

FOS

, FiberAid® arabinogalactans)
50mg
*
Other Ingredients: Capsules (cellulose, water), cellulose, silica,
magnesium stearate and calcium silicate.
Our probiotic strains are stabilized using a patented poly matrix system (patent # 6,653,062) that provides 50 billion microorganisms through expiration date when stored at room temperature.
Each Bio-Enhanced, Acid Resistant Strain (BEARS) has been specifically designed to survive stomach acid secretions during
digestion eliminating the need for enteric coating.
This formula features the most dominant species of microorganisms (Lactobacilli) that nourish and support the vaginal and ordinary organs.
QUALITY AND POTENCY GUARANTEED.
†These statements have not been evaluated by the Food and Drug Administration. This product is not intended to diagnose, treat, cure or prevent any disease.