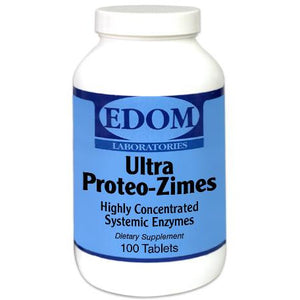 Ultra Proteo-Zimes Enteric Coated Tablets
Regular price $59.20 Sale
Helps support and maintain the health and mobility of joints from injury or other trauma.†
Highly Concentrated-Systemic Enzymes
This systemic blend contains powerful enzymes that may be useful after experiencing the stress of strenuous physical activity. They help support and maintain the health and mobility of joints.†
Papain is from papaya and is a proteolytic enzyme that breaks down amino acids into smaller fragments.†
Bromelain comes from pineapple. Bromelain assists in protein digestion. Bromelain is also a great anti-inflammatory agent and is used in many  of our Joint and Anti-inflammatory formulas.†
Pancreatin contributes the necessary digestive enzymes normally produced by the pancreas.†
Trypsin is necessary for the breakdown proteins into smaller parts in the small intestines for proper digestion and absorption.†
Chymotrypsin is also necessary to breakdown proteins in the small intestines for proper digestion and absorption. †
Many enzymes are de-activated when exposed to the highly acidic conditions found in the stomach. The enzymes in these tablets however are enteric coated to protect the activity of the enzymes.
Supplemental Facts
Serving Size: 3 Enteric-Coated Tablets1
Systemic Enzyme Blend
840 mg
*
Pancreatin 8x(56,00

USP

units** protease – pancreas – Susscrofa)§
300 mg
*
Papain(492 FIP‡ units from Carica papaya)§
18 mg
*
Bromelain(675 FIP‡ units from Ananas comosus)§
135 mg
*
Trypsin(2,160 FIP‡ units from Sus scrofa)§
72 mg
*
Chymotrypsin (900 FIP‡ units protease – pancreas – Bostaurus)§
3 mg
*
Rutin(Rutoside trihydrate Sophora japonica)§
150 mg
*
Other Ingredients: Cellulose, vegetable stearin, di-calcium phosphate, cellulose gum, silica and magnesium stearate. ­­ ­­
Contains No yeast, wheat, gluten, preservatives, artificial colors or flavors.
Suggested Use: As a dietary supplement, adults take three (3) enteric-coated tablets, two (2) times a day between meals, or as directed by a health care professional. Store in a cool, dry place and away from direct light
Keep out of the reach of children.
**USP units are determined through standardized tests outlined in the United States Pharmacopoeia.
‡FIP is the measurement of enzyme activity according to the methods of the International Pharmaceutical Federation
§ From dried purified aqueous extracts
QUALITY AND POTENCY GUARANTEED.

†This statement has not been evaluated by the Food and Drug Administration. This product is not intended to diagnose, treat, cure or prevent any disease.