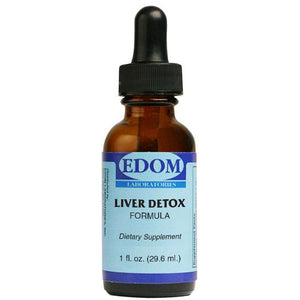 Liver Detox Liquid 1 oz.
Regular price $21.50 Sale
Liver Detox Liquid is formulated specifically to detoxify and strengthen the liver.†
A proper functioning liver is essential for good health. Our liquid herbal extracts are made with organically grown and wild harvested plants of the highest quality. Each fresh or recently dried herb is individually extracted through cold percolation or maceration using the purest de-ionized water.
Supplemental Facts
Serving Size: 35-45 drops (approx. 1ml)
Servings Per Container: 30
Amount
% DV
Oregon Grape***
(root)
58 mg
*
Milk Thistle**
(seed)
58 mg
*
Yellow Dock***
(root)
58 mg
*
Red Root***
(root)(fresh)
87 mg
*
Dandelion**
(root)(fresh)
116 mg
*
Fringe Tree***
(bark)
33 mg
*
Ginger**
(root)(fresh)
33 mg
*
Other Ingredients: De-ionized water (40-55% by volume), pure grain alcohol (45-60% by volume).
Suggested Use: As a dietary supplement, adults take 35-45 drops (1/2 dropperful) in liquid one (1) to three (3) times a day or, as directed by a health care professional.
Shake well before using. Some settling may occur.
Keep out of reach of children.
† These statements have not been evaluated by the Food and Drug Administration. This product is not intended to diagnose, treat, cure or prevent any disease.