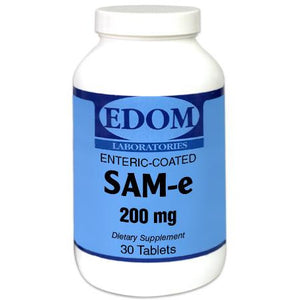 SAM-e 200 mg Enteric-Coated Tablets
Regular price $53.90 Sale
Promotes healthy joint function and to boost a person's mood and emotional well-being.†

Enteric-Coated Tablet For optimum results
SAM-e is produced in small amounts by the human body, where it is an important physiological factor in the production of many compounds. However, the body does not always produce adequate amounts of SAM-e and supplementation is sometimes required.
SAM-e has been the subject of many scientific studies in Europe. Thousands of Europeans have experienced a multitude of benefits from twenty years of its clinical use.†
SAM-e strongly absorbs moisture from the environment, which can lead to a compromise in its overall quality. Consequently, our SAM-e tablets are carefully enteric-coated for the strongest protection.
---
Supplemental Facts
Serving Size: 1 Tablet
Amount
% DV

SAM

-e (from 400 mg of s-adenosyl-l-methionine disulfate tosylate)
200 mg
*
*Other Ingredients: Cellulose, mannitol, carboxy-methylstarch sodium salt, silica, glycerol behenate, magnesium stearate, methacrylc acid, glycerol palmitostearate, medium chain triglycerides, titanium dioxide, talc, triethyl citrate and riboflavin.
*Contains No sugar, salt, dairy, yeast, wheat, gluten, corn, soy, preservatives, artificial colors or flavors.
*Suggested Use: As a dietary supplement, adults take one (1) tablet, two (2) times daily between meals, or as directed by a health care professional.
QUALITY AND POTENCY GUARANTEED.
†These statements have not been evaluated by the Food and Drug Administration. This product is not intended to diagnose, treat, cure or prevent any disease.