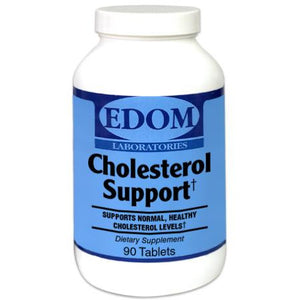 Cholesterol Support
Regular price $62.20 Sale
Helps support normal healthy cholesterol levels†
Supplemental Facts
Serving Size: 3 Tablets
Amount
% DV
Niacin
(as inositol hexanicotinate)
200 mg
1,000%
Vitamin B-6
(as pyridoxine HCl)
25 mg
1,250%
Folic Acid
(as cyanocobalamin)
400 mcg
100%
Vitamin B-12
(as cyanocobalamin)
25 mcg
417%
Chromium
(as polynicotinate)α
200 mcg
167%
Policosanol
(from 18 mg of policosanol complex)β
10 mg
**
Plant sterolsχ
800 mg
**
Tocotrienols
5 mg
**
Guggulipid
(Standardized to 2.5% [12.5 mg]guggulsterones)
500 mg
**
Soy (Glycine max) bean extractδ
(Standardized to 2.5-3.5% [6.25-8.75 mg]isoflavones)
250 mg
**
Phosphatidylcholine
20 mg
**
Pantethineε
50 mg
**
Oat Bran
200 mg
**
Garlic
50 mg
**
Grape seed extract
5 mg
**
Artichoke extractγ
25 mg
**
Inositol
50 mg
**
Other Ingredients: Dicalcium phosphate, cellulose, vegetable stearin, cellulose gum, silica and magnesium stearate. Contains soy.
αFrom ChromeMate®, βFrom Policosanol PlusTM, χFrom CoroWiseTM, δFrom SoylifeTM, εFrom Daiichi,
γFrom Euromed.
Contains No sugar, salt, dairy, yeast, preservatives, artificial colors or flavors.
Suggested Use: As a dietary supplement, adults take three (3) tablets daily at mealtime, or as directed by a health care professional. Store in a cool, dry place and away from direct light.
Keep out of the reach of children.
QUALITY AND POTENCY GUARANTEED.
†This statement has not been evaluated by the Food and Drug Administration. This product is not intended to diagnose, treat, cure or prevent any disease.