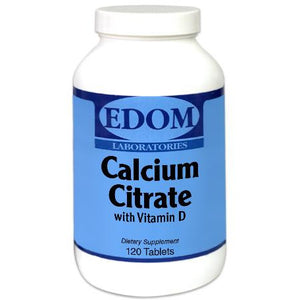 Calcium Citrate With Vitamin D
Regular price $22.40 Sale
For Bone Support
Edom's Calcium Citrate is a highly absorbable form of Calcium. Calcium plays a very important role in the body. It is necessary for normal functioning of nerves, cells, muscle, and bone. If there is not enough calcium in the blood, then the body will take calcium from bones, thereby weakening bones. Having the right amount of calcium is important for building and keeping strong bones.
---
Supplemental Facts
Serving Size: 2 Tablets
Calcium
(as citrate)
630 mg
63%
Vitamin D
(as cholecalciferol)
400 iu
100%
*Other Ingredients: Cellulose, dicalcium phosphate, silica, stearic acid, magnesium stearate and hydroxypropyl methylcellulose.
*Contains No Added sugar, salt, dairy, yeast, wheat, corn, soy, preservatives, artificial colors or flavors.
*Suggested Use: As a dietary supplement, adults take two (2) tablets daily with a meal, or as directed by a health care professional.