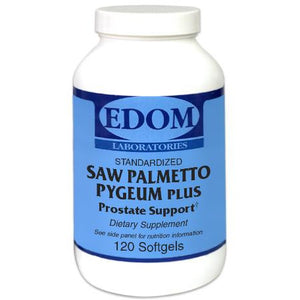 SAW PALMETTO PYGEUM PLUS Softgels
Regular price $47.10 Sale
Promotes Prostate and Urinary Health†
The U.S. National Library of Medicine and the National Institutes of Health Department of Health & Human Services, report that numerous human trials show that Saw Palmetto may improve the symptoms of Benign Prostatic Hypertrophy (BPH). Symptoms of BPH include urinary hesitancy, urinary frequency, the number of times a night a patient needs to wake up at night to urinate and pain with urination in men who expierence mild-to-moderate symptoms.†
They also state that Pygeum (P. africanum bark extract) has been observed to moderately improve urinary symptoms associated with enlargement of the prostate gland or prostate inflammation.†
Numerous human studies report that pygeum significantly reduces urinary hesitancy, urinary frequency and pain with urination in men who experience mild to-moderate symptoms.†
Supplemental Facts
Serving Size: Serving Size: 1 Softgel Capsule
Amount
% DV
Zinc
(as monomethionine** )
5 mg
33%
Saw Palmetto Berry Extract
(Serenoa repens)(85%-95% [68-76 mg] Fatty Acids and Sterols)
80 mg
*
Pygeum Africanum Bark Extract
(Standardized to 13% [3.25 mg] Beta-sitosterol)
25 mg
*
Pumpkin Seed Oil
(Cucurbita Pepo)
40 mg
*
Nettle
(Utica dioica) root extract(Standardized to 5% [3.75 mg] Total Amino Acids)
75 mg
*
Lycopene
(from tomatoes)
1 mg
*
Other Ingredients: Capsules (gelatin, glycerin, water), soybean oil, beeswax, lecithin, caramel color and water. Contains soy. Manufactured on equipment that processes peanuts. May contain traces of peanuts.
Our Saw Palmetto Pygeum Plus Softgels are made with the highest quality European Standardized Extracts of Saw Palmetto and Pygeum. Pumpkin Seed Oil, Nettle Root Extract, Lycopene and L-OptiZinc work synergistically to enhance the proven benefits of Saw Palmetto and Pygeum.
**From L-OptiZinc® , a patented form of zinc. L-OptiZinc is a trademark of Inter-Health Company.
Contains No Added sugar, salt, dairy, yeast, wheat, corn, preservatives, artificial colors or flavors.
Suggested Use: As a dietary supplement, adults take one softgel capsule, four (4) times daily with meals, or as directed by a health care professional. Store in a cool, dry place and away from direct light.
Keep out of reach of children.
QUALITY AND POTENCY GUARANTEED.
 †These statements have not been evaluated by the Food and Drug Administration. These statements are not intended to diagnose, treat, cure or prevent any disease.