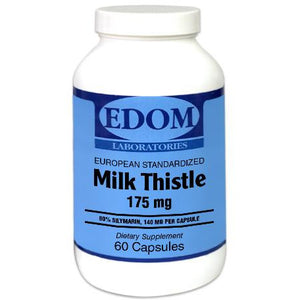 Milk Thistle Extract 175 mg Capsules
Regular price $27.40 Sale
Milk Thistle is unique in its strong ability to protect and strengthen the liver.†
It is also used as a herbal remedy for gall bladder problems.†
Our Standardized Milk Thistle Extract-Plus 175 mg 80% Silymarin, is made under strict European quality standards which are comparable to Over-The-Counter drug standards in the U.S. It provides optimal levels of naturally occurring silymarin.†
The extracts in this formula are the finest quality available. Turmeric and Artichoke extracts are combined with Milk Thistle extract to provide additional synergistic benefits.†
---
Supplemental Facts
Serving Size: 1 capsule
Amount

% DV

Milk thistle seed extract
(Silybum marianum)
(Standardized to 80% [140 mg] Silymarin)
175 mg
*
Turmeric root extract powder
(Curcuma longa)
(Standardized to 95% [48 mg] Curcumin)
50 mg
*
Artichoke leaf extract powder
(Cynara scolymus)
(Standardized to 2% [0.4 mg] Cynarin)
50 mg
*
Other Ingredients: Gelatin (capsules), (May contain one or more of the following; rice powder, vegetable stearin, magnesium stearate and silica).
Contains No Added: sugar, salt, dairy, yeast, wheat, corn, soy, preservatives, artificial colors or flavors.
Suggested Use: As a dietary supplement, adults take one (1) capsule, three (3) times daily, or as directed by a health care professional.
Keep out of reach of children.
QUALITY AND POTENCY GUARANTEED.
† These statements have not been evaluated by the Food and Drug Administration. This product is not intended to diagnose, treat, cure or prevent any disease.