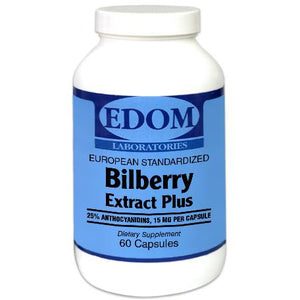 Bilberry Extract Plus 60 mg European Standardized
Regular price $33.00 Sale
European Standardized Bilberry Extract Plus
Our Bilberry Extract contains a full spectrum of components as they naturally occur in fresh whole Bilberries. Bilberry is a natural herb used to enhance eye nutrition.*
Our Standardized Bilberry Extract is meticulously manufactured under strict European quality control standards without the use of harsh solvents. It is extracted to provide an optimal level of 25% natural occurring Anthocyanidins. Additionally, it contains a full spectrum of components as they occur naturally in fresh whole Bilberries.
Red Grape Skin Extract and Citrus Bioflavonoids work together to enhance the proven benefits of Bilberry Extract.
---
Supplemental Facts
Serving Size: 1 Capsule
Bilberry Fruit Extract
(Vaccinium myrtillus)(Standardized to 25% [15 mg] Anthocyanidins)
60mg
*
Red Grape Skin Extract
(Vitis vinifera)(Sorce of Anthocyanidins)
50mg
*
Citrus Bioflavonoid Complex
50mg
*
*Other Ingredients: Gelatin, water (capsules), rice powder, silica and magnesium stearate.
*Contains No Contains No sugar, salt, dairy, yeast, wheat, gluten, corn, soy, preservatives, artificial colors
or flavors.
*Suggested Use: : As a dietary supplement, adults take one (1) capsule, one (1) or two (2) times daily with meals, or as directed by a health professional.
*These Statements have not been evaluated by the
FDA

. This product is not intended to diagnose, treat, ,cure or prevent any disease.